You may have various reasons to explain why you need to download videos from YouTube –
You want to watch videos when you are on a plane.
Or you want to convert a song from YouTube to MP3 because you cannot find it on Apple Music or SoundCloud.
However, downloading your favorite videos from YouTube is always a big hassle. It is not always easy to find a useful downloader providing stable services. Even download service is available for free on the site you find, pop-up Ads may keep on open, which can be really annoying.
Therefore, this is where VidPaw App comes to the rescue. Maybe you have no idea about its service. Just let me introduce you this incredible online YouTube video downloader.
Part 1. VidPaw Services Overview
VidPaw is one of the best online video downloader available out there. With it, you can easily download whatever you like on YouTube. There are several features that makes VidPaw reliable.
VidPaw is an absolutely free downloader.
There is no restriction to use its service. This means you can download as many videos as you want and VidPaw will not cost you a penny to use its service.
VidPaw supports multiple formats.
You can download YouTube videos in formats such as MP4, 3GP, and WebM. Also, VidPaw provides different resolution to choose, from 144p minimum to 8k maximum.
VidPaw can grab videos from over 1,000 sites.
By using VidPaw, you can download videos from popular video sharing sites like YouTube, Facebook, Instagram, and Vimeo etc.
One of the great features of VidPaw is that it has a clean interface and no Ads will pop up irritating you, which guarantees a better user experience.
So to speak, VidPaw is a professional and trustworthy online video downloader. Good news is that we finally have a chance to use its app on Android. Let's check out what's new in VidPaw Android app.
Part 2. New features of VidPaw App for Android
After a thorough research and development, VidPaw launches its Android App recently. There are several cool features added in the App.
Streaming and Downloading YouTube Videos on VidPaw App
Now you can directly watch YouTube videos on VidPaw App. A YouTube video player is built in VidPaw App. In other words, you don't have to switch to other tab but just directly enjoy your favorite YouTube videos on VidPaw App. What is more, after watching the video, by clicking the download button on the video page, you can download your desired YouTube videos to your Android devices.
On-Site Search Function
VidPaw adds a search engine to its site. By using VidPaw App, you are able to easily find out anything you want to watch on YouTube. All you need to do is to type the keywords on the search engine, then VidPaw will display all the search results which are related to what you are curious of.
Different Download Tools
Despite the features which are mentioned above, VidPaw App also equipped with some great and useful tools.
You can use VidPaw YouTube to MP3 converter to easily convert YouTube videos to MP3.
There is a subtitle downloader in VidPaw app to save subtitles in English or any other languages as a SRT file.
Download Videos From Popular Social Media
VidPaw app is equipped with Facebook Video Downloader, Twitter Video Downloader and Instagram Video & Photo Downloader, which allows you to enjoy its download service specifically. If you find out something interesting on social media, you can use VidPaw app to save to your Android and not to worry someday the video will be deleted.
Share YouTube Video With Your Friend
There is a share feature in VidPaw app. This means you can not only stream and download various YouTube videos on VidPaw app, but also you can directly and instantly share what you're watching with your friends. This is a really useful feature for those who love to share interesting YouTube video on different social media, and you don't have to switch and open different app.
Part 3. How to Use VidPaw App to Download YouTube Videos
When it comes to download YouTube video, you can either use VidPaw on your PC and iPhone or download a VidPaw App to your Andriod devices. And VidPaw App gives easy operations to download YouTube videos to Android. Let's have a look.
STEP 1. Type the keyword in the search box, and tap the search button.
STEP 2. Find the YouTube video you need on the search result page, and tap the download button on the right side.
STEP 3. Now you can see a pop-up dialog, then select the format and quality you need, tick the box, and tap download. VidPaw will start downloading the video.
STEP 4. Your video can be found in the Downloaded tab.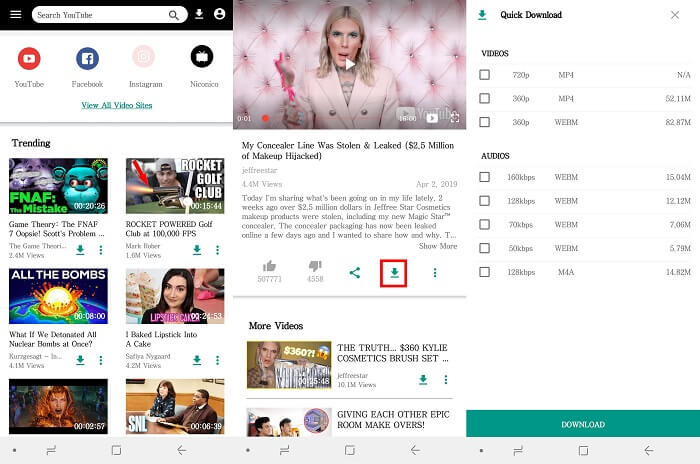 The Button Line
VidPaw is a 100% free YouTube video downloader available on the Internet. It is also a useful converter to convert YouTube video to MP3. You can enjoy its download service without any limits. What is more, its newly launched Android App really worth to try, for it allows you to watch and download YouTube videos with just a single app. We can look forward to its next upgrade.